Group mat classes are run by semester (Fall, Winter, Spring, Summer), usually running 8-10 weeks. Classes focus on the classical Pilates mat repertoire using ones body weight for resistance. The studio provides Pilates mats and the class instructor may use small equipment such as resistance bands, Pilates rings, or small hand weights when desired. Classes are limited to 8 participants in order to provide you with quality instruction.
Class times & prices vary, please contact us for more information
Private lessons are scheduled at your convenience. We offer lessons 7 days a week. Lessons will give you a solid foundation of the Pilates Method and will progressively strengthen & stretch your entire body from your head to toes. Individual needs will be worked on with a full studio of equipment including the reformer, tower, cadillac, wunda chair, high chair, ladder barrel, spine corrector, pedi-pole, foot corrector and toe corrector. With just you & your instructor, you will work in a peaceful & encouraging environment, limiting outside distractions.
If you are new to Pilates, private lessons are encouraged prior to entering a class setting.
​
Cancellation / Refund Policy.
Private Session: A 24 hour cancellation policy is adhered to at the studio. Failure to cancel a scheduled lesson will result in being fully charged for your lesson.
Group Classes: Refunds will be issued if Withdrawal from class is made prior to the second scheduled class. No refunds will be issued for missed classes. Makeups are only allowed during the current semester when available.
​
Please wear comfortable, form fitting clothing to your session(s). Your success will depend on the instructors ability to monitor your alignment. Pilates exercises are practiced with bare feet.
​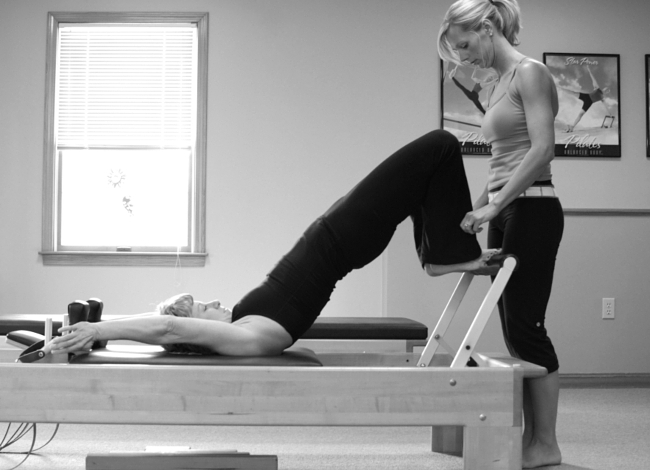 Equipment classes utilize the Pilates apparatus in a small group setting for safety and hands on guidance. Classes range in level from Beginner to Advanced. Private lessons are required prior to enrolling in an equipment class. Classes are limited to 4 participants in order to provide you with quality instruction.
Class times & prices vary, please contact us for more information
Personal Training
Nutritional Support
Sport Specific Pilates
Corporate Classes
In-Home Lessons
Guided Pilates Avatar Lessons
Open daily by lesson appointment & per class schedule